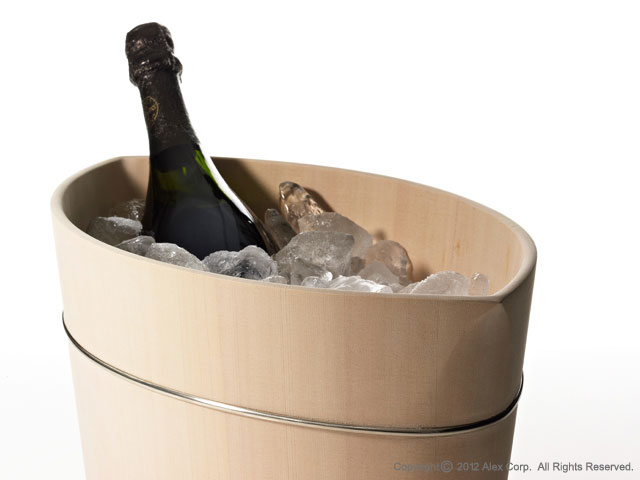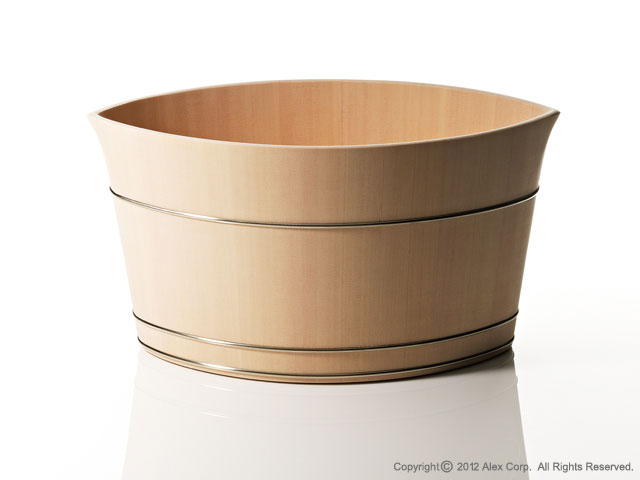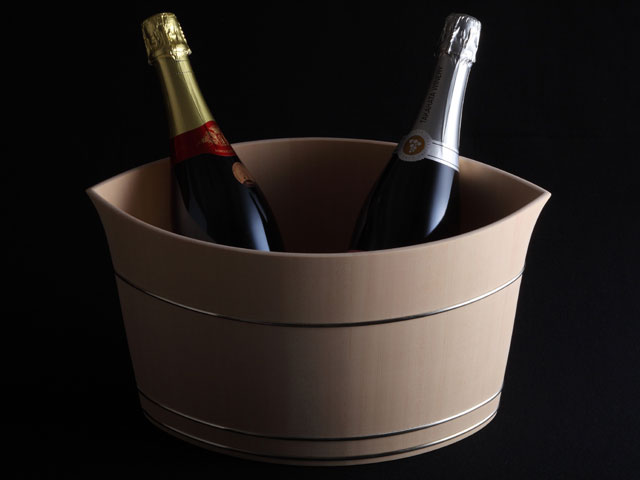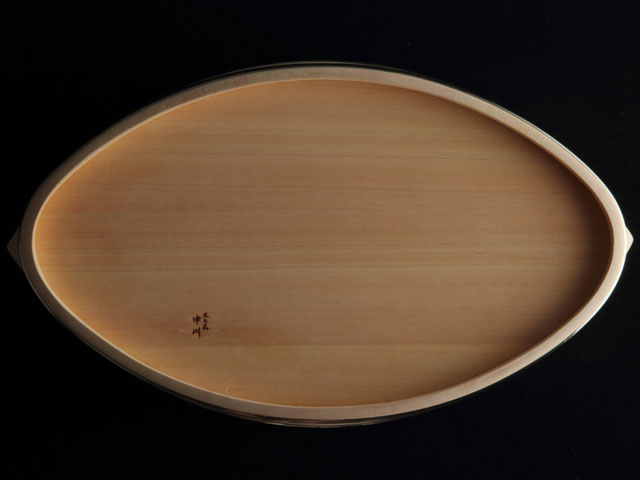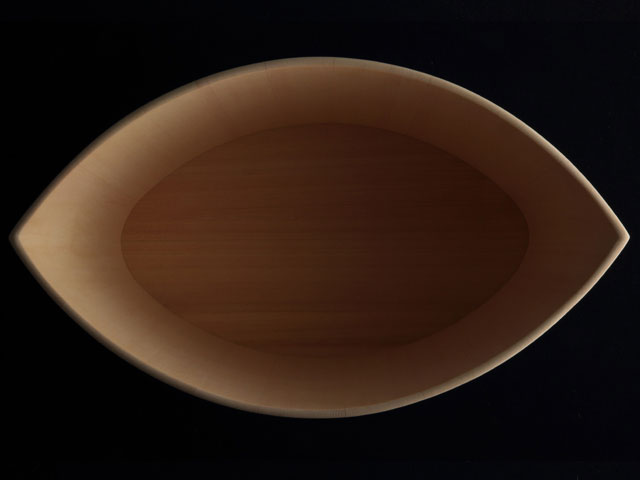 Product Description
Champagne/Wine Cooler Kyosashimono 'Konoha' by Nakagawa Woodcraft Studio
Raise your flutes to a thousand years of fine joinery
Currently only 1 in stock!
Nailed it? Certainly not!
Sure, the Kyosashimono* Champagne Cooler is expensive, but hold it in your hands. Run your fingers over the lustrous 200+ year-old timber as you breathe its freshly cut aroma. Notice its lightness, its knotless straight grain and natural ivory-white finish. See how the oval shape gracefully flanges outwards towards the lip with all the elegance of a sailboat's wooden hull. Imagine it chilling your favorite bubbly as it sits within easy reach on your dining table, comfortably accommodating two bothles. It attracts admiring glances from your guests - Can they see the joints? It's so beautifully crafted, they're all but invisible! Tell your guests it represents the culmination of a thousand years of Japanese wood artisanship, created in the workshop of a Living National Treasure! Oh, and don't forget to mention that not a single metal nail is used! An investment in taste, this piece of fine art is destined to become a family heirloom admired for generations - Let the champagne flow!
Understated style to chill the ultimate celebratory beverage
Whether Dom Perignon, Veuve Clicquot, Perrier-Jouët, Cristal, Moet, etc., a cooler is essential equipment for any lover of bubbly. The lightweight, naturally well-insulated and condensation resistant Kyosashimono Champagne Cooler keeps your bottle(s) chilled and ready.
The enjoyment of wood and wood grain is a universal human pleasure
Embodying the very essence of Japanese aesthetics and meticulous artistic craftsmanship, the elegant simplicity of the Champagne Cooler's graceful lines conceals a wealth of technical ingenuity refined over centuries.
The son of a Living National Treasure and gifted master artisan in his own right, Shuji Nakagawa developed this exquisite piece of art. Delighting in perfection and achieving perfect harmony, he uses carefully selected timber of the most highly prized variety of the 200+ year-old Japanese Cypress (Bishu Hinoki) tree. Naturally seasoned over many decades, it is ivory-white in color and has knotless perfectly straight grain. Nakagawas's use of meticulous joinery rather than metal nails, and the timber's lustrous natural finish characterize the allure of the Kyosashimono Champagne Cooler.
Steeped in history
Japan is a land of deep forests, which provide a rich timber resource of both soft and hard woods. It is hardly surprising that so many woodworking techniques, crafts and disciplines evolved in the country, as wood in just about every form has, since ancient times, been almost synonymous with life itself
Kyosashimono dates back to the Heian period (794-1185). Specialist cabinet-makers, however, did not appear until the Muromachi period (1392-1573), when this form of joinery developed in step with the ceremonial drinking of tea.
A master craftsman among master craftsmen
Shuji Nakagawa is the third generation successor and proprietor of Nakagawa Woodcraft Studio. His father, Kiyotsugu Nakagawa, has been designated a Japanese Living National Treasure for his renowned woodworking skills.
*Kyosashimono = fine joinery of Kyoto
Perfect for both business & personal gifts
This product can be marked with a branding iron (+ 10,000JPY). For details, please feel free to contact us.

Product Details
Country of origin
Japan
Specification

Specifications

Material: Japanese Cypress (Bishu-Hinoki), Nickel Silver (copper, zinc, nickel alloy), Bamboo Peg
Dimensions: W375 x D220 x H200mm x Thickness 7mm (14.8 x 8.7 x 7.9 x 0.3 in.)
Weight: 680g (24 oz)

Care Instructions: Do not use near an open flame or heat source. After use, remove all water and allow to dry naturally. If necessary, wipe with a soft natural sponge. Never place in a dishwasher.

Due to the natural characteristics of wood, each cooler varies slightly in color and texture.

Kindly Note
As this item is made to order, it may take about 1 - 2 months to manufacture and ship from Japan.
Delivery and wrapping
Shipping Method

Delivery within Japan

: Sagawa Express,

Delivery Overseas

: Express Mail Service (EMS) via the Japan Post Service
Shipping Fee

within Japan

:¥2,410


Overseas

:Payment Method(United States) $23.09USD
Estimated Delivery Date

Domestic Shipping

Domestic delivery usually takes 1-3 days after the order is shipped.

Overseas Shipping

For international delivery, delivery time can be estimated based on that of EMS (International Express Mail Service) once the order is shipped.

Check the delivery time here.
Ship from
Shinagawa-ku, Tokyo
Track
Sagawa Express Tracking Info Site
EMS Tracking Info Site
Insurance
Included
Payment Method
Payment Method

(1) Credit card (no handling fees)

(2) ATM (no handling fees)

(3) Convenience stores (no handling fees)

・Seven Eleven
・Lawson
・Family Mart
・Mini Stop
・Circle K Sunkus
・Daily Yamazaki, Yamazaki Daily Store

(4) Online banking (no handling fees)

(5) PayPal (no handling fees)

(6) Cash-on-delivery (COD) (For domestic shipping and wristwatch purchases only)
For those who would like to pay via cash-on-delivery (COD), please select the ATM option. Then, please specify the COD option and the desired date of delivery (excluding weekends, the date can be no sooner than 4 days after the order) on the information form below.

Cash-on-delivery Option/ Service Fees
・Less than JPY 10,000: JPY 300
・JPY 10,000 or above ~ less than JPY 30,000: JPY 400
・JPY 30,000 or above ~ less than JPY 100,000: JPY 600
・JPY 100,000 or above ~ less than JPY 300,000: JPY 1000

Customers outside Japan

(5) PayPal (no handling fees)

Purchases can be made by credit card even if you do not have a PayPal account.
Kindly Note
If you view our site in Japanese, you may choose any one of the above 6 payment methods. If you view our site in other languages including English, you may only make your payment with (5).
Order Process
1. Placing an Order
Orders can be made anytime.
2. Confirmation Mail
An automated mail will be delivered from ALEXCIOUS after an order has been placed.
3. Approximate Shipping Date Mail
For products that may take up to a week to dispatch, another mail will be sent to notify the approximate shipping date in 1~3 business days.
4. Shipment Confirmation Mail
A confirmation mail will be sent with the voucher number that indicates that the product has been shipped.
5. Arrival of the Product
After the order has been delivered, we request that you kindly rate our product on the review page.
¥95,680
In other currencies
$848.86USD
Shipping Fee:
$23.09USD
 Shipping Address:United States
Gift wrapping available
EMS International orders available