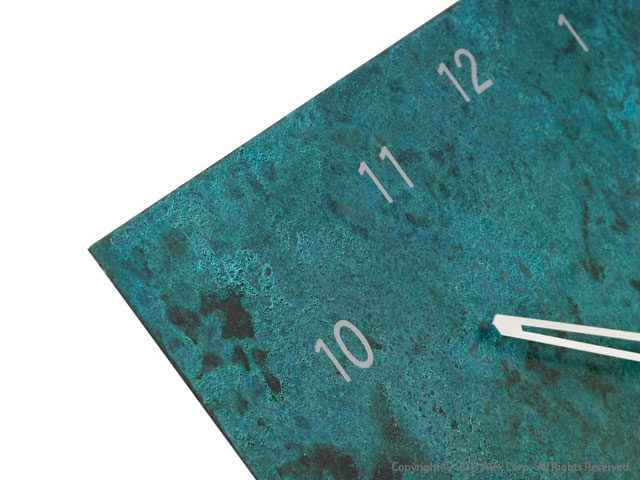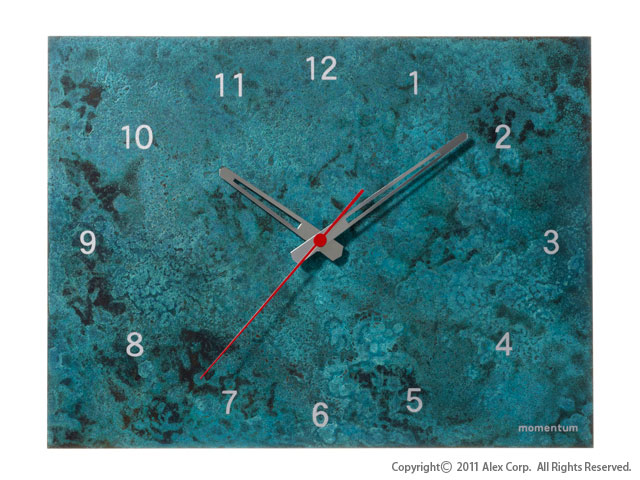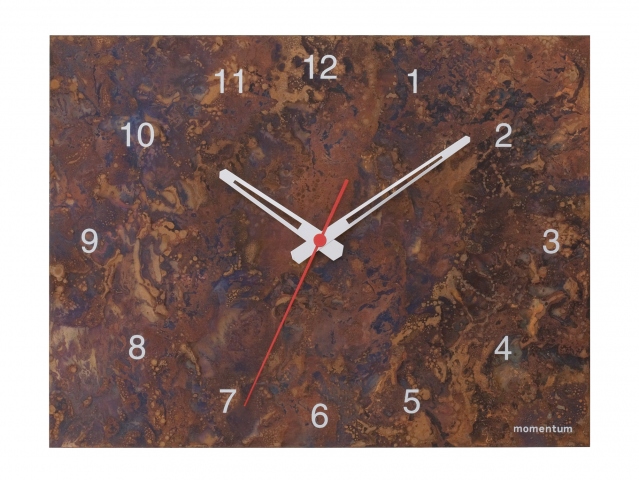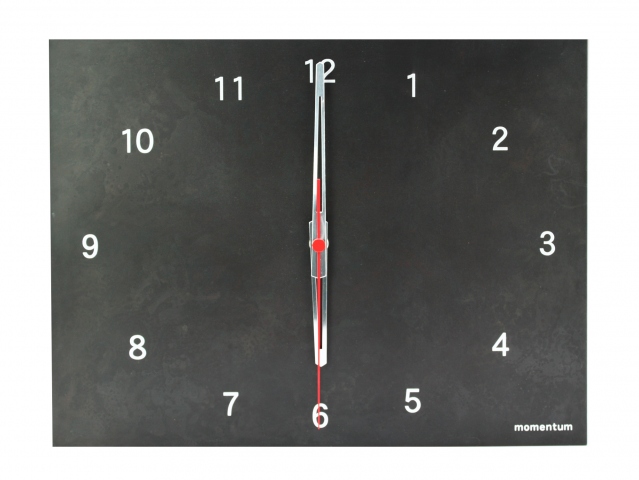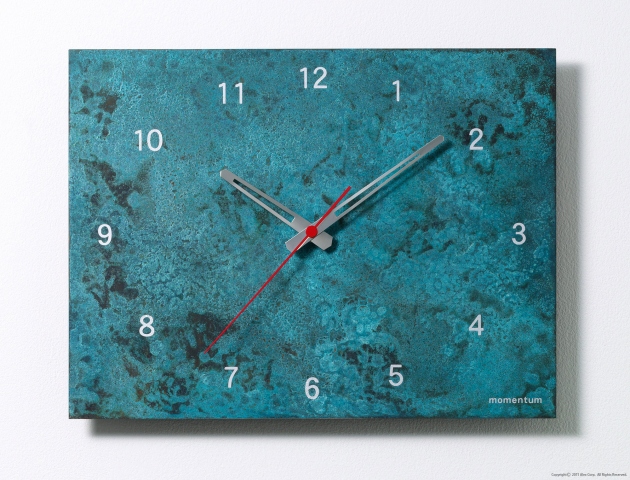 Product Description
'Patinized' Brass Wall Clock Time and Space by momentum factory Orii
Creatively Corroded Wall Clock!
Time and Space
Make a timely, stylish statement with this eye-catching tarnished copper wall clock - A beautifully designed and engineered timepiece that friends, family and colleagues will love.
Carefully conceived corrosion for über-cool cribs!
Takaoka* Copper-ware: 'Patinization'
Oxidizing or tarnishing in different ways, and thereby taking on new colors and textures, the appearance of most metals changes naturally with age and exposure to the elements. Under controlled conditions, 'momentum factory Orii' speeds up the 'patinization' process of thin copper and brass plates using Takaoka's traditional tarnishing methods developed and refined by trial and error over many decades. These closely guarded techniques require the plates to be repeatedly moistened with organic chemical cocktails, and the use of heat to achieve the desired colors. Working with these superbly 'patinized' metals, momentum artisans handcraft elegant items for sophisticated home and office interiors.
*Takaoka is an area of Japan famous for metal working.
Product Details
Country of origin
Japan
Specification

Specifications

Material: Brass
Dimensions: W330 x D30 x H250mm (12.9 x 1.1 x 9.8in.)
Weight: 0.88kg (1.94lb.)
Color: Electric Blue, Peacock, Black

Kindly Note
Delivery and wrapping
Shipping Method

Delivery within Japan

: Sagawa Express,

Delivery Overseas

: Express Mail Service (EMS) via the Japan Post Service
Shipping Fee

within Japan

:¥2,810


Overseas

:Payment Method(United States) $27.69USD
Estimated Delivery Date

Domestic Shipping

Domestic delivery usually takes 1-3 days after the order is shipped.

Overseas Shipping

For international delivery, delivery time can be estimated based on that of EMS (International Express Mail Service) once the order is shipped.

Check the delivery time here.
Ship from
Shinagawa-ku, Tokyo
Track
Sagawa Express Tracking Info Site
EMS Tracking Info Site
Insurance
Included
Payment Method
Payment Method

(1) Credit card (no handling fees)

(2) ATM (no handling fees)

(3) Convenience stores (no handling fees)

・Seven Eleven
・Lawson
・Family Mart
・Mini Stop
・Circle K Sunkus
・Daily Yamazaki, Yamazaki Daily Store

(4) Online banking (no handling fees)

(5) PayPal (no handling fees)

(6) Cash-on-delivery (COD) (For domestic shipping and wristwatch purchases only)
For those who would like to pay via cash-on-delivery (COD), please select the ATM option. Then, please specify the COD option and the desired date of delivery (excluding weekends, the date can be no sooner than 4 days after the order) on the information form below.

Cash-on-delivery Option/ Service Fees
・Less than JPY 10,000: JPY 300
・JPY 10,000 or above ~ less than JPY 30,000: JPY 400
・JPY 30,000 or above ~ less than JPY 100,000: JPY 600
・JPY 100,000 or above ~ less than JPY 300,000: JPY 1000

Customers outside Japan

(5) PayPal (no handling fees)

Purchases can be made by credit card even if you do not have a PayPal account.
Kindly Note
If you view our site in Japanese, you may choose any one of the above 6 payment methods. If you view our site in other languages including English, you may only make your payment with (5).
Order Process
1. Placing an Order
Orders can be made anytime.
2. Confirmation Mail
An automated mail will be delivered from ALEXCIOUS after an order has been placed.
3. Approximate Shipping Date Mail
For products that may take up to a week to dispatch, another mail will be sent to notify the approximate shipping date in 1~3 business days.
4. Shipment Confirmation Mail
A confirmation mail will be sent with the voucher number that indicates that the product has been shipped.
5. Arrival of the Product
After the order has been delivered, we request that you kindly rate our product on the review page.
¥14,680
In other currencies
$133.93USD
Shipping Fee:
$27.69USD
 Shipping Address:United States
Gift wrapping available
EMS International orders available
momentum factory Orii / Other products