Yuji Morimiya served 5 years at Victor followed by 23 years at Sony as director of creative design. However, by the end of his 'tenure', he wasn't able to work on cutting edge electronics anymore due to the necessity of designing goods for mass production.
The electronics industry in Japan has largely stagnated due to fierce competition from abroad. Korea has taken the No1 position in terms of production with manufacturers such as Sam-sung and LG producing items at a fraction of the cost of their Japanese counterparts. Morimiya wants to contribute to putting Japan back on top of the pile.
As Swiss watch makers produce a wide range of items ranging from very expensive high-end models to the reasonably priced Swatch range, so Morimiya feels there is no reason why Japanese manufacturers can't use a similar 'business model' in the electronics industry; continue producing great items for mass consumption, and at the same time design high-end products for the more discerning customer. His acarine idea was, however, rejected by a big manufacturer, so on a friend's advice he set up his own small design company and started to make the acarine001 by himself.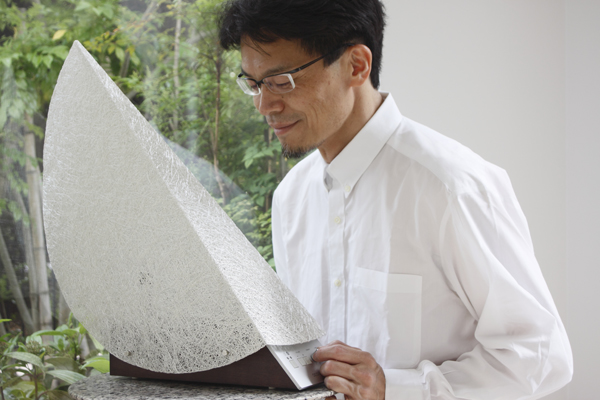 Morimiya says, "Not so long ago, I couldn't have imagined setting-up my own electronics manufacturing company and doing everything by myself. Japanese products used to be loved globally; they were unique and very high quality. In recent years, however, there are fewer and fewer products that we can be proud of. I'm not interested in simply producing electronics out of feelings of nostalgia; I believe products need to be a good match for modern society. In rural Japan there are many small companies with excellent technical knowledge producing top quality components. My goal is to produce outstanding electronic products in cooperation with these companies." Indeed, Morimiya brought together the best components available from many of these rural manufacturers to create the acarine001.
Light and sound are the most important elements of our living spaces according to Moriyama. "It's surprising that a combination of these two vital elements hasn't been explored before," he says, "The acarine001 is a world first." The name comes from the Japanese words for light and sound, 'akari' meaning light and 'ne' sound. The acarine001 is the first product representing Yuji Morimiya's dream of reviving the famous phrase, 'Made in Japan.'
Hobbies:
"I don't really make a distinction between work and hobbies; to me, they are one and the same."
Collection of Modern Design Products:
• Mario Belini's Olivetti era calculators
• Braun Nizo's 8 mm cine-cameras
• Agfa cameras
• Canon SLR series
• 8 mm cine-cameras
• Old magazines / books related to the camera, etc.