Field:

Nishijin textile manufacturers

Location:

Kyoto-shi, Kyoto
TAKA
ANDSQUARE Representative (Right side of photograph)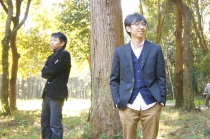 Born in 1988, as the eldest son of a Nishijin weaver.
Experience the priceless feel of Nishijin silk fabrics even after moving away from home.
The Nishijin Silk Fabric brand, ANDSQUARE, was created to show the beauty of Nishijin Silk Fabric to the world.

Think of the three main necessities of human life: Clothing, Food, and Shelter. We've taken the fabric formerly used only as "Clothing", and utilized it in products designed for living spaces creating chairs and other interior accessories. Our Nishijin Silk Fabric High Back Chair was produced under our company's brand, and was exhibited in the 2015 Milano Salone in Italy.

The theme of ANDSQUARE's brand is a fusion between Japanese and Western styles. Our products do no aim to simply showcase Japanese style, but to use it to accentuate a Western style living space. Also, put a touch of Western into Japaneseness. Our products try to bring out the most modern and fashionable aspects of both western and Japanese styles to create a living space that will brighten your mood every time you see it. To bring a touch of Japan into the lives people around the world. This is only a neutral. Faithful to the words 'tradition' and 'Nishijin weaving'.

We will keep working to spread Nishijin silks to Japan and the world.
Back to Brand List