Field:

Total Creative Production

Location:

Shinjuku-ku, Tokyo
chiaki kohara
Artist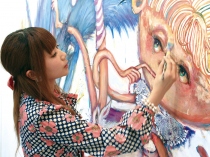 2007
- Awarded the Yayoi Kusuma Prize at UNIQLO CREATIVE AWARD 2007
2010
- Awarded prize by Aquirax Uno at Illustration Choice
2011

- Solo exhibition "Gimme a Hug" (JR Osaka Isetan Mitsukoshi Opening Event). First proper live painting at a department store
- Exhibition at DAEGU ART FAIR (South Korea)

2012

- Wins first prize at Canvas@Sony2012. Creates 38m giant art wall the hight of Ginza Sony Building
- Participant in Red Bull Ignition. Paints streetlamp, the symbol of Osaka's American Village
- Collaboration with GUNZE BODYWILD. Creates underwear artwork

2013

- Exhibitions at Art Fair Tokyo 2013, ART OSAKA, and ART TAPEI 2013 (Taiwan). First live painting abroad
- As an artist at Art Wall Collection (JR Osaka Isetan Mitsukoshi), creates giant artwork in exterior display window of department store

2014

- Exhibit at Art Fair Tokyo 2014. Exhibits 2m tall giant unicorn figure "Kakumei*HUG-chan" created through crowd funding
- Speaker at Umekita Mirai Kaigi MIQS (Grand Front Osaka)
- Live painting at Nihon Joshi Hakurankai 2014 (American Village Booth)
- Exhibition at Marugoto Neko Festival 2014 (Osaka Umeda Main Store). Creates main visual using whole site
- Participant in Art Kitty Parade (Collaborative exhibition with Hello Kitty) (Grand Front Osaka one year anniversary). Paints Hello Kitty at Open Atelier
- Special exhibition participant in The 16th Entertainment Art Exhibition. Creates original wallet in collaboration with Isetan Mitsukoshi (Available only in Mitsukoshi Shinjuku, Nihonbashi, and Ginza)
- Live painting of lion statue for 100th year anniversary at "Art & Fair" (Nihonbashi Mitsukoshi, Tokyo)
- In charge of main visuals at Tensai Banpaku 2014

2015

- Created main visuals for FM802 "Spring access campaign 2015"

- Solo exhibition "Kimiga, tsuki." (JR Osaka Lucua 1100 Grand Open)
- Exhibition at Marugoto Neko Festival 2015 (Osaka Umeda Main Store). Creates the main visuals for the whole site
- Creates CD jacket and music video visuals for CURIO's "FOOT STEP. Set up a limited time only shop in Shinjuku LoFt and Ikebururo LoFt.
- Eyeglasses brand, "JINS" x Chiaki Kohara original glasses are onsale for a limited time.
- Awarded an award for excellence in the art section of 3331α Art Hack Day Exhibition
- Appears as regular guest on J:COM Kansai area television program "Ochanoko saisai"
Back to Brand List